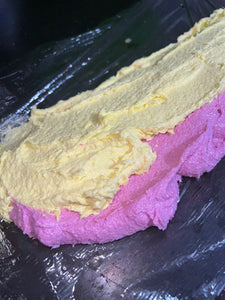 Raspberry Lemonade Foaming Sugar Scrub
Regular price $15.00 Sale
Ready to reveal silky smooth-skin? Time to exfoliate and cleanse and give rise to new glowing skin.
Our Raspberry Lemonade Foaming Sugar Scrub is the perfect way to indulge in luxury. The body scrub exfoliates, cleanses and renews skin, creating a smooth canvas for the perfect complexion. Its richly foaming texture caresses your skin gently, unveiling a new layer of delicate, nourished skin. Let yourself be pampered with this exquisite treat for your senses. 
Whips up into a foamy lather, this body scrub is gentle yet effective. Made from mild ingredients, you'll feel the difference after just one use. Expect smoother, softer skin and lessened clogged pores with regular use.
Juicy raspberries with a unique twist of natural lavender and lemon for the perfect refresher.
How To Use:
Wet your skin

Apply desired amount and massage into skin (focus on those problem areas)

Wash away and look at your new cleansed smooth skin.

apply moisturizer after each use
Ingredients:
Sugar, Sodium Cocoyl Isethionate, Vegetable Glycerin, Distilled Water, Cocamidopropyl Betaine, Stearic Acid, Avocado Oil, Fragrance, FD&C Lakes or mica