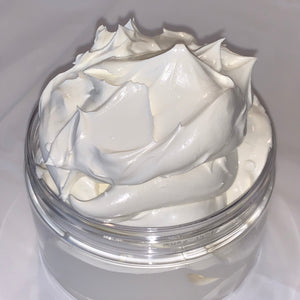 Lemon Berry Crisp Whipped Body Butter
Regular price $18.00 Sale
Always fighting dry dull skin? You have found the solutions. Soft, healthy, hydrated skin that retains moisture is what our Body Butters will provide.
Dessert lovers get ready for this amazing gourmand scent of lemon, milk, blueberries, butter and vanilla 
Whipped body butter is made with shea butter, mango butter and nourishing oils like hempseed oil. Is an all-natural, lightweight, and non-greasy hydrator that soothes dry skin and make it feel soft again by locking in moisture.
Our formula uses only rich oils and butters so it doesn't have any harsh chemicals. Whipped in small batches, this body butter will give your skin lots of love!
Are you ready to give your skin new life? Then try our smooth like satin Body Butters.
Ingredients:
Ethically sourced, premium grade African Shea Butter, Mango Butter, Cocoa  Butter, Apricot Oil, Hemp Seed Oil, Rice Bran Oil, Babassu Oil, Sweet Almond Oil, Vitamin E, Phalate-free Frangrance Oil.
How To Use:
Pat skin dry after hand washing or shower. Apply desired amount to body or hands as needed.
NOTE: Butters may melt during long heat exposure or extremely warm days. Please be sure to retrieve packages as soon as possible during the summer or if you live in warmer states. There is no refund or exchange on melted Butters. You can pop your butter into the fridge for a few minutes. It will solidify and you can still enjoy all the goodness of your butter.