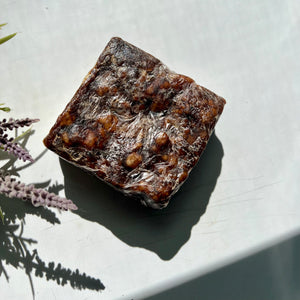 African Black Soap
African Black Soap has been used for centuries in Africa. Known to keep your skin cleansed and calm from acne all while conditioning your skin. This soap may also clear up scarring making way for amazing texture.
100% Raw African Black Soap produced in Ghana. Ethically sourced and sustained. The making and purchasing of this product directly benefits the village.

*Recommended to start using 1-2 times per week if using on face as to not cause dryness. Use soap bag or tray to keep dry*
HOW TO USE:
Apply to washcloth or sponge and lather. 
Ingredients:
Shea Butter, Coconut Oil,  Palm Kernel Oil, Cocoa Pod Ash, and water.