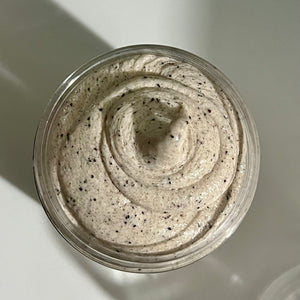 Coconut & Coffee Exfoliating Scrub
Regular price $15.00 Sale
Smells like fresh brewed coffee from your favorite coffee shop. Infused with hazelnut and cream and coconut! Our moisturizing coffee scrub is a great exfoliant. Cruelty free, paraben free designed to exfoliate and soften your skin to perfection. 
Coffee is said  to fight free radicals helping to protect your skin. As a result, sagging, fine lines and wrinkles may improve. Coffee is also said to improve collagen and reduce hyper-pigmentation.
This scrub is a foaming scrub. Designed to be milf cleanser while exfoliating 
Ready for results? Add this coffee sugar scrub to your cart.
 7oz
Ingredients
Sugar, Sodium Cocoyl Isethionate, Vegetable Glycerin, Distilled Water, Cocamidopropyl Betaine, Stearic Acid, Avocado Oil, Fragrance, Coffee Grounds 
How To Use  
Apply desired amount to wet cleansed skin and rub in circular motions upward. Rinse pat dry and apply moisturizer like body butters