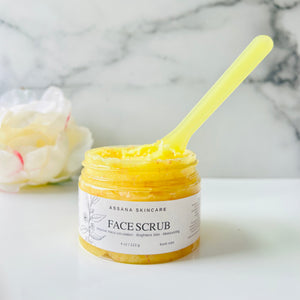 Jojoba Bead Brightening Face Scrub
Regular price $18.00 Sale
Gently exfoliate dry, dull skin, to smooth, soften and infuse hydration. This scrub is fomulated with the robust yet gentle exfoliant of jojoba beads. This luxurious scrub is a great addition to any self care routine. 
Exfoliating regularly gives way to better absorption of nutrient rich products by getting rid of dead skin cells giving way to softer more supple skin. 
Using jojoba beads instead of sugar allows for safe, gentle yet necessary exfoliation. Hard exfoliants may cause tears in your skin which can give rise to more bacteria and acne. This is fomulated for all skin types including sensitive skin.
How To Use:
Apply a small amount to wet skin with gentle circular motions after cleasning with Cleansing Balm. The mix will become thick and creamy. Continue to work into skin focusing on problem areas. Rinse and apply Face Oil and moisturize. Recommend 1-2 times per week. 
Ingredients:
Jojoba beads, Pomegranate Seed Oil, Avocado Oil, Safflower Oil, Rice Bran Oil, Emulsifying Wax, Cetyl Alchol, Turmeric, Spearmint Essential Oil