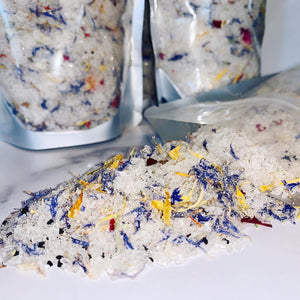 Calm Bath Soaking Salts
Regular price $16.99 Sale
The luring and invigorating scent of mint sets the stage in these detox soaks. Get ready to provide your skin and body with replenishment of minerals with this soak.  Lifting your mood and soothing achy muscles! Leaving you feeling relaxed and rejuvenated.
How To Use:
Dissolve 1/3 cup in water and soak your stressors away!
Soak your entire body or just your feet!
External use only
Ingredients: Epsom salt, Dendritic salt, Himalayan pink salt, Peppermint essential oil, lavender essential oil, apricot oil, vitamin E, calendula flowers, chamomile flowers
Let us customize your Bath Salt and get you prepared for an at home detox experience, a baby shower or bridal shower. Send us an email to customize your detox salt soak for party favors.