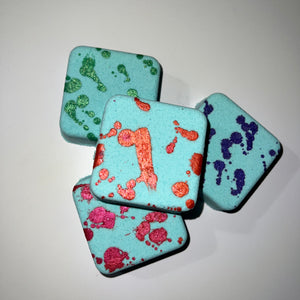 Clogged Nose Relief Shower Steamers Set of 2
Regular price $10.00 Sale
Not a bath bomb lover, don't take baths?
Well, enjoy something similar yet different with our shower steamers.
Infused with essential oils and menthol.
How to use
Place on the floor of the shower away from the heavy flow of water. Let the steamers activate with spritz of water which will release scent and open up your sinuses.
DO NOT USE THESE AS A BATH BOMB. DO NOT PLACE DIRECTLY ON SKIN. DO NOT USE IF PREGNANT.
Ingredients
Baking Soda, Citric Acid, Kaolin Clay, Rubbing Alcohol, FD & C dyes or Mica, Fragrance or Essential Oil, Eco Glitter