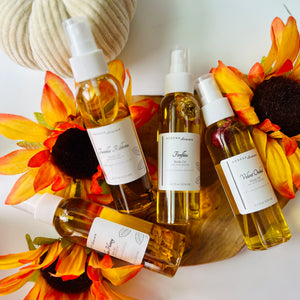 Velvet Orchid After Shower Body Oil
Regular price $0.00 $15.00 Sale
A luxurious blend of oils that will keep your skin feeling hydrated and soft, while also nourishing it with ingredients like Babassu and Rice Bran Oils. Our lightly scented oils are long-lasting, perfect for all skin types. Also to layer ontop of your Whipped Body Butter to protect your skin from dryness and make it feel silky-soft.
This formula is non-greasy, fast absorbing and will not clog pores. 
The delicate scent of orchid, lemon, bergamot, chocolate and vanilla will leave you wanting more.
How To Use:
Apply to damp skin as needed for superior hydration. You can also blend with your whipped body butter.
Ingredients:
Babassu oil, Rice Bran oil, Apricot oil, Hempseed oil, Avocado oil, Pomegranate seed oil, Rose hip oil, Fragrance, Vitamin E